The <dt> tag is used to denote a term in the list of definitions/descriptions (learn more about HTML lists). It is used together with the <dd> and <dl&gt tags. The <dl&gt tag creates a list, and the <dd> gives a description/definition of the term. In the description list for each group, there should be at least one <dt> tag that is followed by at least one <dd> tag.
Syntax
The <dt> tag comes in pairs. The content is written between the opening (<dt>) and closing (</dt>) tags.
Example of the HTML
<dt>

tag:
<

html

>
  <

head

>
    <

title

>Title of the document</

title

>
  </

head

>
  <

body

>
    <

dl

>
      <

dt

>Hypertext</

dt

>
      <

dd

>A system of text pages that have cross-references.</

dd

>
      <

dt

>Hyperlink</

dt

>
      <

dd

>A part of a hypertext document that references another item.</

dd

>
    </

dl

>
  </

body

>
</

html

>

Result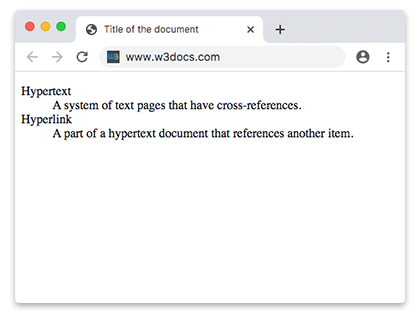 Attributes
The <dt> tag supports the Global attributes and the Event Attributes.
How to style <dt> tag?
Common properties to alter the visual weight/emphasis/size of text in <dt> tag:
Coloring text in <dt> tag:
Text layout styles for <dt> tag:
Other properties worth looking at for <dt> tag:
---