Google lens: Your One-stop Solution
Apr 20, 2022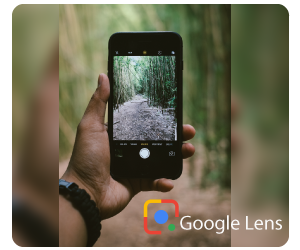 Google has sped up development over the past few years. Google's newest technology, based on the recognition of images, called "Google lens" can be defined as revolutionary. It makes the lives of its users much easier. We will try to cover the latest and most significant features of the Google lens in this article. The latest features of the famous app were officially announced during Google I/O 2019 conference. Lens uses advanced deep learning routines in order to empower detection capabilities.
It's Easy in Usage
After hearing about the Google lens App you might wonder how to use it. It is very simple and available at the same time. Just open the Google lens application, point the camera of your smartphone at the item you intend to learn more about. In pixel smartphones, it is set in the camera application.
Google lens doesn't merely search for the image but analyzes it in detail. This means you can get basically any information you need from a picture. For example, if you point the camera at a book, it will allow you to preview the book content and will show you options to buy it.
You can take up any photo in Google photos and artificial intelligence will help you identify what is in it. Just a year ago this technology was part of Google assistant. Today it's developing faster, broadening its framework. Now Google lens also helps to power new functions in Google maps, for example.
Discover and Learn with Google Lens
With the help of the Google lens, you can simply discover anything you see. For example, while searching for new clothes, the Google lens will help you decide, whether you will wear them in your daily life or not. Moreover, it allows you to see how other people match the clothes you have chosen. For example, you liked a skirt. Just take a screenshot and apply the Google lens to your photos and you will see how others have styled it. In this way, you can even give new life to your old clothes.
It has an option of scanning QR codes. Users don't need a separate QR code scanner anymore. Google lens detects the QR code and generates all the necessary information or leads to the main website.
Google lens will help you even in a restaurant. It will assist you in finding the most popular meals and the photos of the given dishes. Google lens can help you while traveling. All you need is to take a picture and tap the "Translate" button. It allows you to take a picture of a sign and that sign will instantly be translated to your desired language. Moreover, you can tap it and listen to what is written on it. This feature is a fast solution for people with low vision.
As you see artificial intelligence serves as the main guideline for Google. The application of the Google lens combines the power of Google for capturing and understanding of the world around.